Getting to know each other
We know meeting someone for the first time can be intimidating, and going to a new church for the first time can be nerve-racking. We want to help make your first experience at St John Lutheran Church a great one!
SERVICE TIMES
St. John Lutheran Church meets every weekend and offers two service times to choose from:
Traditional Worship: Sundays at 8:00am
Modern Worship: Sundays at 11:00am
LOCATION & DIRECTIONS
St John Lutheran Church is located in Bullhead City, Arizona. Our campus is at 1664 Central Ave. at the south end of Bullhead City. We are one block in from Highway 95, about half a mile south of Target/Mohave Crossroads Shopping Center.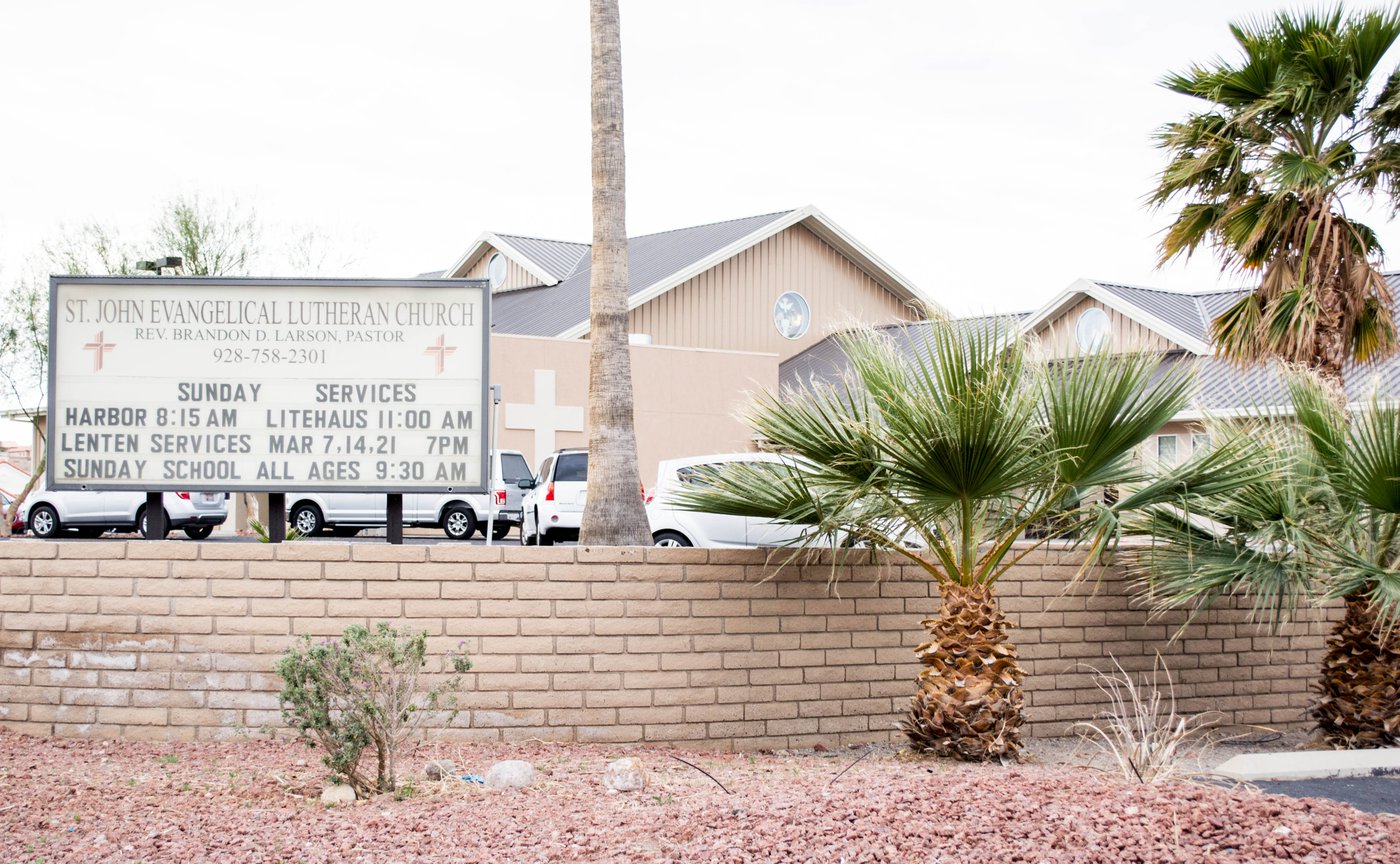 What can I expect?
How long is a St. John Lutheran CHURCH service?
In total, a St John Church service is about 60 minutes in length. Services follow the ancient pattern established by the early Church but with many modern elements. We call this liturgy, and it's intended to immerse the people of God in Scripture from the beginning to the end of the worship service. Song lyrics and liturgy are projected onto the screens so you can sing along and/or engage with worship however you feel most comfortable. The difference between our Traditional and Modern services is that the Traditional service features beautiful classic organ music drawn from our hymnal, Lutheran Service Book, while the Modern service is led by the St. John Band and features modern praise and worship music as well as classic hymns in new settings. Both services are cheerful, uplifting, and intended to bring you face-to-face with Jesus as you receive His precious gifts. The Pastor delivers the sermon each week, a proclamation of Jesus' saving work for you in light of our great need for salvation. The sermon is usually about 15 minutes in length.
Holy Communion is offered every week, but the Communion service alternates between Traditional and Contemporary Worship services. Every Sunday, Holy Communion is offered at the 8:00am Traditional Service, and at the 11:00am Modern Worship Service on the 2nd and 4th Sundays. If a month has 5 Sundays, Communion is offered at both services.
What's the culture like at St John Evangelical Lutheran Church?
Sunday's at St John are exciting, casual, and relaxed. Come as you are and expect to feel welcomed as our guest. If you love to dress up for church, feel free. If you'd prefer to be more comfortable and relaxed, go for it. The only dress code is that you must wear clothes!
St. John has a time for conversation and fellowship around coffee and treats before and after each service. It's a great time to get to know your family in Christ!
Kid's Sunday School is held between the 2 services at 9:30am at the same time as Adult Bible Class. Both are open to everyone and are a great place to learn more about your Christian faith!
What about my kids?
We believe that kids should have a blast at church every single week - and at St John Sunday School, we make this a priority. The other thing we make a priority is your children's safety. Our children's ministry volunteers are properly vetted in order to ensure your kids' safety. Sunday School is free to attend and a great way for your kids to get to know Jesus and His love for them.

Let us know you're coming
Ready to check out St John Evangelical Lutheran Church in person? We can't wait to meet you in person. Simply fill out the form below and we'll make sure to give you the VIP treatment upon your first visit.